Well this is my 97 NA8 Porco Rosso (Red Pig) I thought I should start documenting things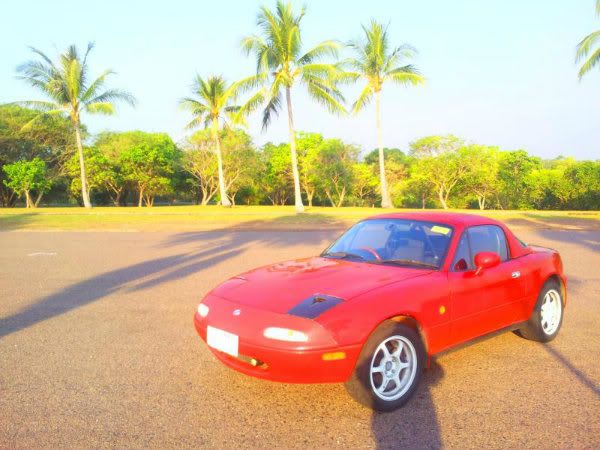 I initially bought back in 2009 coming from a Evo 6 Tommi Makinen and a S15 200sx. I was really getting into lap sprints and motorkhanas and really needed something that was a lot cheaper to run. The criteria was <$10,000, Atmo, RWD and could run 15inch or smaller tyres. Choices came down to an MR2 or MX5 and the latter won out.
The exterior was quite rough, paint has faded on the bumpers with scratches and dings about. The undercoat is showing along some of the edges as I think it has gone through a bit too many cut and polishes. This was not a major concern as it would eventually end up as a track pig.
Bonus Items:
Aluminium BD style roll bar
Fog lights (not working)
roadster scuff plates
Wood steering wheel
boot lamp
Plans:
sticky tyres
coilovers
sway bars
Clutch
intake
Exhaust
The plan is to keep the car atmo for now, maybe turbo down the track but we'll see.